Welcome!
Trackting Smart Alarm is a device designed to protect what you love via situation-sensitive responses. Be sure to follow all the activation steps to get the most out of it.

1. CHARGE YOUR TRACKER FOR AT LEAST 30 MINUTES
Remove the side rubber cover to free the micro USB socket located on the side (use a pin to help you to pull it out). Connect the Tracker to a charger or a PC via the supplied micro USB cable. Allow it charge for at least 30 minutes (even if a complete charge may take 2-3 hours)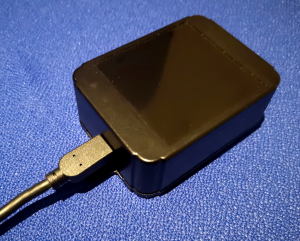 2. INSTALL THE APP "TRACKTING SMART ALARM"
If you have an iPhone (iOS>11 version) click here – App Store
If you have an Android phone (version 6 or successive) click here – Google Play
3. CREATE AND ACTIVATE YOUR ACCOUNT ON THE APP
Launch the App, click on "Sign up" and follow the instructions on the screen:
You must create a separate account directly on the app even when you previously created one on the www.trackting.com website to buy Trackting. The two accounts are not connected in order to respect your privacy.
Your App account will be activated via the confirmation link sent to your email account.

4. PAIR YOUR TRACKER
Click on Pair Tracker and enter the UID code found on the back your your Tracker (black).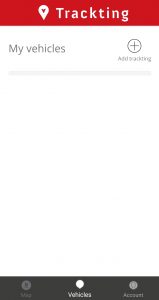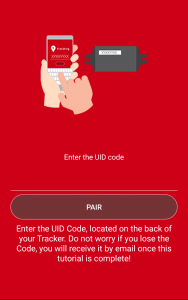 5. PERFORM THE FIRST LOCALIZATION
– Disconnect Tracker from the charger.
– Shake it for at least 45 seconds and move it around together with the Tag (red keychain), until reaching a windowsill, a balcony or a place exposed to the sky. Set it down face-up.
– Take the Tag keychain with you and distance yourself from the Tracker by at least 30 meters. Wait 5-10 minutes.
>> The Tracker will locate its first "Parking" and will notify your App which will display its the position on the map.

6. FIX TRACKER TO YOUR VEHICLE
Now Tracker is ready to be placed on your vehicle: whether you secure it with double-sided tape or screws (included), be sure that it is fixed face-up so that the GPS receiver may pick up the signals from the satellites.
Do not fix it next to large metallic masses or heat source (engine). Keep it protected from any contact with liquids. Do not keep the Tag (red) next to your body or metal masses as you drive your vehicle as this may impair signal detection by Tracker. This could determine the Alarm mode to activate itself repeatedly. The repeated activation of the Alarm mode without due cause is not allowed and could lead to the suspension of the Service.
7. GET TO KNOW TRACKTING AND GET THE BEST OUT OF IT
Trackting is a smart system designed to be easy to use.
To get the best out of the service it provides, please learn more about how it works by reading this simple instructions note: https://www.trackting.com/en/how-it-works/
TECHNICAL SUPPORT AND TROUBLESHOOTING
You can find answers to most of your questions or open an assistance ticket here: https://www.trackting.com/en/customer-support/