I don't receive any parking notifications
Parking notifications will usually appear on your App from 6 to 10 minutes after your vehicle stops moving. If these notifications do not appear on your App it may be because:
a) the vehicle is parked in a place where the signal is low or inexistent (for ex. in an underground or multilevel garage) and the device is unable to send data. Don't worry, Trackting is still active: should someone attempt to move your bike, Trackting will send an Alarm notification as soon as it connects to the network again.
b)  Reception of notifications is not enabled on your App. Enable the notifications on your App from the "My Trackting" menu
c)Reception of notifications is not enabled on your phone. Enable reception of notifications on your phone from the Settings of your mobile phone.
Parking notifications with no position (no address)
You may receive parking notifications with no address if the device cannot connect to the satellites sending GPS signals. (Don't worry, Trackting still protects your bike: should someone attempt to steal it, the device would receive the GPS signals as soon as the sky returned visible). In this case your App would show this screen: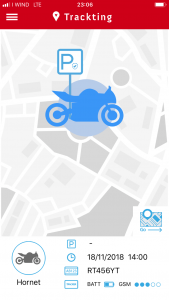 GPS signal reception can be disrupted if:
a) the vehicle is parked inside a garage or in places where the sky is not visible.
b) The device on the vehicle is not fixed in the appropriate position (upside down) and does not point to the sky.
c) The device on the vehicle is fixed too close to a metallic body and the satellite signal is disrupted
I cannot follow my current position while driving and I can only see the last parking position.
This is perfectly normal. Trackting is an alarm system that does not "spy" on your whereabouts in order to protect your privacy and to save battery life.  When you approach your vehicle, your Tag automatically identifies you to the Tracker which can go right back to "sleep".
Why do I never receive notifications? Or only sometimes?
The system notifies events such as parking, alarm trigger or low battery. You may not receive these notifications if:
a) Reception of notifications are not ENABLED on the operating system of your phone -> To enable notifications, enter the Settings menu of your phone (consult the phone user manual)
b) Check that your phone is not in "Silent", "Vibrate" or "Do not disturb" mode -> Exit this mode
c) You have an Asus or Meizu brand phone -> These phones have a function blocking the auto-start (automatic start-up) of the App. Look for help online to find out how to unable this function
For ASUS phones consult: https://www.asus.com/it/support/FAQ/1017977/
Why the Tracker cannot stay permanently connected to the vehicle battery?
Because the device turns off automatically while charging and mostly because thieves look for and deactivate devices that are connected to the battery … a connected device is easy to find and of little use.
Why doesn't Tracker always keep track of my vehicle position?
We chose to indicate position only in certain events (parking, alarm activation and tracking) for several reasons. One is battery life: communication via cellular network has high energy consumption levels which also depend on signal intensity, so we selected the most essential data.
But not only. In this way Trackting becomes invisible and undetectable by devices used by thieves to find out if a vehicle is equipped with GPS receivers or not. Thieves use systems with special antennas that check for GPS signals.  If the device was always "on" it would be easily detected. Instead, Trackting is activated by movement (it has an acceleration sensor) and an alarm notification is sent to your smartphone only if it is moved by someone who is not you (normally within 15 and 60 seconds max)
How do I know when I can unplug the tracker from the charger?
When the battery is fully charged (usually within 4 hours) you receive a "End of Charge" notification directly on the app. The green led blinks during charging and turns on when fully charged. While charging you will not see any other information on the app because the device is off during charging, so it does not send any communication.
How can I charge it without removing it from the vehicle?
The easiest way is to use a common USB power bank, to avoid removing the device from your vehicle and the use of extensions. The minimum capacity of your power bank must be 2,500mAh to allow full recharge.
Why is the alarm mode activated even if I'm driving?
The alarm may be triggered when you are near your vehicle if the Tag is unable to communicate with the Tracker. This may happen if:
a) The Tag is kept in a pocket, close to your body which acts as a "screen". It is advised to keep the Tag on the vehicle keychain, at least 10cm away from the body.
b) The Tracker is too close to a metallic body (ex. engine). It should be placed at least 20cm away from large metallic bodies.
c) Check on the App that the Tag battery is not empty (in the "My Trackting" menu)